7 Dec 2020
Leader Energy's Investment in 330MWp Vietnam Phu My 1-3 Solar Power Project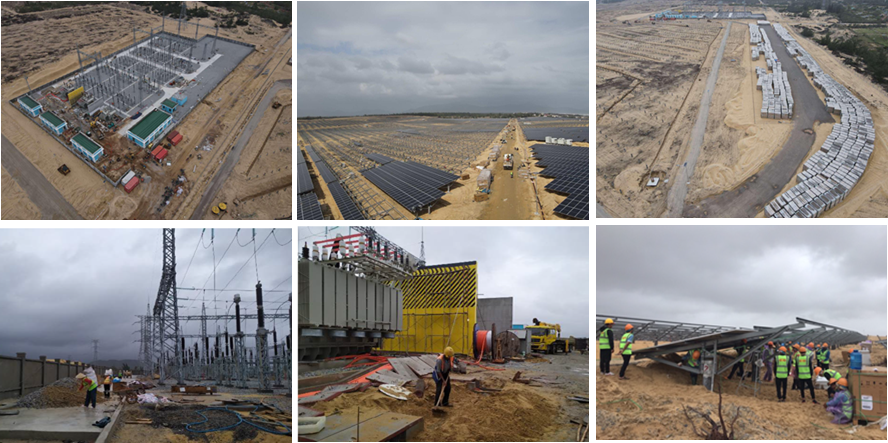 LEADER ENERGY INVEST IN VIETNAM SOLAR
Leader Energy through its wholly owned subsidiary, Leader Energy (Vietnam) Pte. Ltd., entered into a convertible bond subscription agreement on 5th December 2020 for USD43.6million (VND 1,018billion) with local Vietnamese power developers, Clean Energy Vision Joint Stock Company JSC and Bamboo Capital Group Energy JSC.
The convertible bond agreement for joint equity investment of the 330MWp Phu My 1 -3 solar power developments, is Leader Energy's first foray into the rapidly growing solar power segment in Vietnam. Leader Energy first entered into the Vietnam renewable energy sector in 2016 with its acquisition of 5 small-hydro power plants located in Lao Cai Province, northern Vietnam.
330MWp PHU MY 1-3 SOLAR
The Phu My 1 – 3 ground mounted solar PV developments are located in the Phu My District of Binh Dinh Province, in the South-Central Region of Vietnam. The developments total 330MWp of installed capacity and are currently in construction with partial commissioning expected towards end-December 2020.
Total investment cost of the Phu My 1- 3 developments is estimated to be USD 267million and have 20-year power purchase agreements with the electricity utility company of Vietnam, Vietnam Electricity (EVN).
Phu My 1 -3 will account to be a significant portion of Binh Dinh Province's overall installed capacity, providing electricity supply to meet the Province's growing electricity demand from its furniture manufacturing and agriculture industries and to meet Vietnam's rapidly growing economy.
LEADER ENERGY
HNG Capital's Power Division, Leader Energy Pte. Ltd. ("Leader Energy"), was founded over 25 years ago with it establishing the first Independent Power Producer in Cambodia. Leader Energy develops, owns and operates diverse interests in the power sector through its investments in high-voltage transmission systems, coal-fired, solar and hydro power plants across Southeast Asia.
Phu My 1 -3 is Leader Energy's fourth investment in the growing renewable energy sector, following its success with its development and ongoing operations of two large scale solar power plants in Malaysia with total installed capacity of 67.1MWp, and Leader Energy's acquisition of its portfolio of 5 small hydro power plants in Lao Cai, Vietnam, of 51.7MW.
BAMBOO CAPITAL GROUP ENERGY JSC
Bamboo Capital Group Energy JSC is a subsidiary of Bamboo Capital Group (BCG), a multi sector investment company, established in 2011 with a focus on real estate and renewable energy investments in Vietnam. BCG is listed on the Ho Chi Minh Stock Exchange (HOSE: BCG).
BCG successfully developed and owns Long An 1 & 2 solar power plants with total installed capacity of 141.1MWp, and has a pipeline of additional 550MWp wind power in development. Phu My 1 – 3 is BCG's third utility scale solar development in Vietnam.
Mr Gan Boon Hean, CEO of Leader Energy, said "this latest investment is our continued push towards green energy portfolio". "We are fully committed to go green and our investment policy is towards renewable energy for all future power projects."
"We are focusing mainly on solar, wind and hydro for the regional markets which have seen a sharp increase in renewable energy projects".
Related link: